Hello!
Starting out in acting and voiceover in college, Faye switched it up and went into laboratory science. After years of experience behind the microscope, they realized there was a mix up of a few letters in their destined career path and is now lovingly behind the microphone. Faye grew up in the San Fernando Valley and is local to the Los Angeles area.
Vocal traits: Warm, friendly, relaxing, fun, caring, honest.Check out Faye's resume: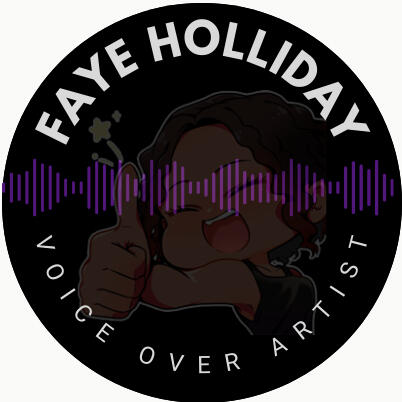 Training
Selected voice-over coaching and workshops taken:
Character - Kira Buckland & Casey Mongillo
Animation & Direction - Mary E. McGlynn
Character & Animation – Everette Oliver
Animation Promos – Ryan Clark
Commercial Coaching – Katie Zeiner
Commercial – Barbara Niles
Reach Out
Want to inquire about a project? Email here . You can keep up with what Faye's been up to through Twitter. Want to see what Faye is like? Check out their Tiktok! Resume in PDF is downloadable.
© 2022 Faye Holliday. All rights reserved.